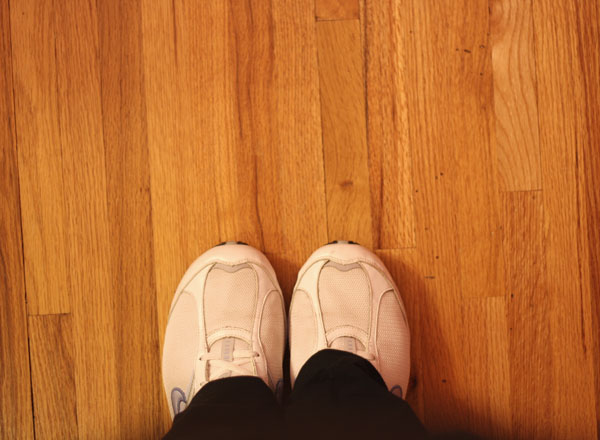 I'm mixing things up here in my rhino-removal quest – a little outdoor fast-walking here, a little bike riding there, a little indoor workout here. Today, since we had snowflakes in the air (after 70ish yesterday?!), I wasn't up for dragging my rhino outside, so I stayed in instead.
Anyway, for today—day five—my 20 minutes consisted of Dr. Brad's 10-minute workout (see below) and three songs on the Just Dance Wii game with R-girl, including I'm So Excited by The Pointer Sisters.
Have I ever mentioned that when they were passing out the dancing genes – or, more specifically, the rhythm genes – I did not receive any? ZERO. So this little spectacle would have been quite entertaining for any potential onlookers, of which there were none, thankfully.
It might not have been pretty.
But it was fun.
And laughing adds a little extra O2 to the mix, right?
xo
__
Dr. Brad's 10-Minute Full-Body Workout
I learned this workout from my beloved Dr. Brad. He gave it to me a while back as part of his effort to urge me to please, Julie, at least move your body for 10 minutes a day. I have found it comes in handy when I've been a little motivated to move, but not very motivated. Heck, 10 minutes is 1/3 of a Modern Family episode…
Do everything quickly to a count of 10. You should be out of breath by the end. (I am out of breath after number one.) Enjoy.
1. Full Squats
2. 90-degree Wall Sit
3. Step Ups (onto a step or platform, 10 each leg)
4. Lunges (10 each leg)
5. Chair Dips (for triceps)
6. Push-ups
7. Plank Position (hold for count of 10)
8. Belly Swim (I do 20)
9. Superman Position (hold for count of 10)
10.  Feet to Ceiling (ummm, sorry, I can't remember what this one is…)
11.  Scissor Legs
12. Leg Raises
13. Opposite Elbows to Knees
14. Abdominal Crunches