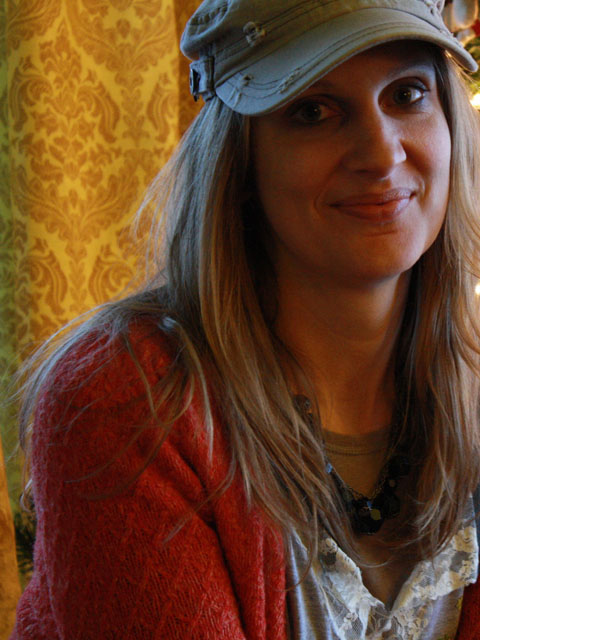 This used to be me, a few short days ago, but it's not me anymore.
Let me explain.
I didn't start out my weekend planning on different hair.
Well, not much different, at least.
I won't bore you with the details of how I colored my own hair on Thursday night, wanting to go back to my slightly darker look from this fall, and how this time I decided to use permanent color instead of semi-permanent, and how after two hours of trying to strategically paint goop into my hair I looked like I had been mud-wrestling (and losing), and so did my bathroom, and how after I rinsed and rinsed and rinsed and rinsed and dried my hair and looked in the mirror I freaked out just a little bit.
Ok, kind of a lot.
Wrong brown. Wrong, wrong brown. Very, very brown. So, so, so dark. Very.
Deep breathing. This is not something a mature adult would be upset about, right? I mean really. This is so minor. After all, looks don't matter, they're just the outside of me, and who I really am has nothing to do with the color of my hair.
I am more than my hair.
But oh-my-gosh-seriously-people-this-is-a-really-big-deal-don't-try-to-tell-me-it's-not-I-mean-what-if-that-person-I-always-say-hello-to-when-we-pass-at-church-doesn't-even-recognize-me-anymore?? Someone once said something to me about how cool it was that I was a six-foot-blonde and what if it turns out that's really the only cool thing about me? What if returning to my natural color takes me back to my school days of being the last one picked for every single game in gym class and—and—and—
GET A GRIP, GIRL! You sound like a crazy person! Or a ninth grader (sorry R-girl).
In the words of my stylist (who I emailed in a panic): "Chill out!!!"
Right.
Couldn't agree more.
So, on Saturday, I chilled out in the best way I could come up with. I went to another stylist to see if she would feel pity on me and save me by throwing in a few highlights, just a few, but instead she asked if she could cut off all the damaged hair and she said I could trust her so I did and so I started with this…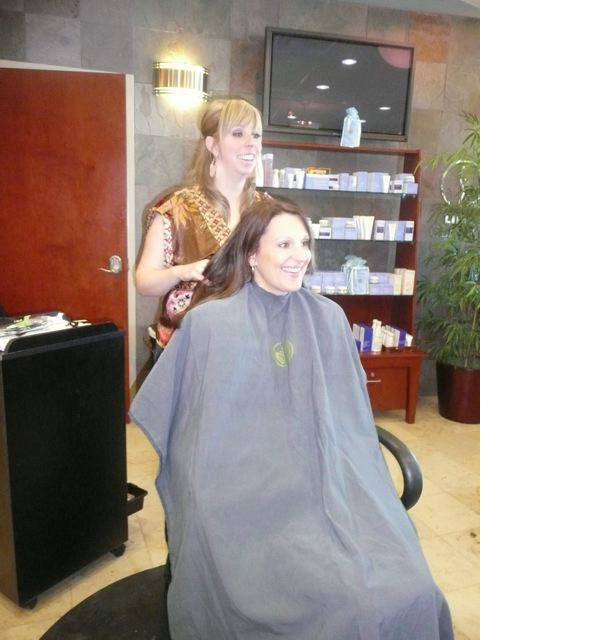 …and ended with…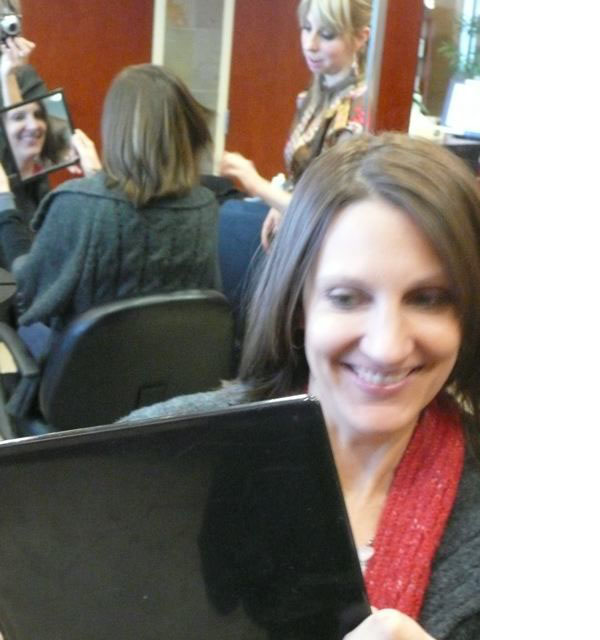 Holy moly. Yes, I'm smiling there, but it's my hello-nice-to-meet-you-who-are-you? smile. Cause really. Who is that?
Turns out, I've had a little time to get to know this new person. Also turns out, most of those people I passed in the hall this morning stopped and smiled and said hello, and some said nothing about the hair (did they hate it? did they notice??), some said something, some didn't know me from behind, but as far as I know, I was still somewhat recognizable when I smiled.
And, yes, I realize this is all just a ridiculous rant. Which is why I can also say that this is not me either: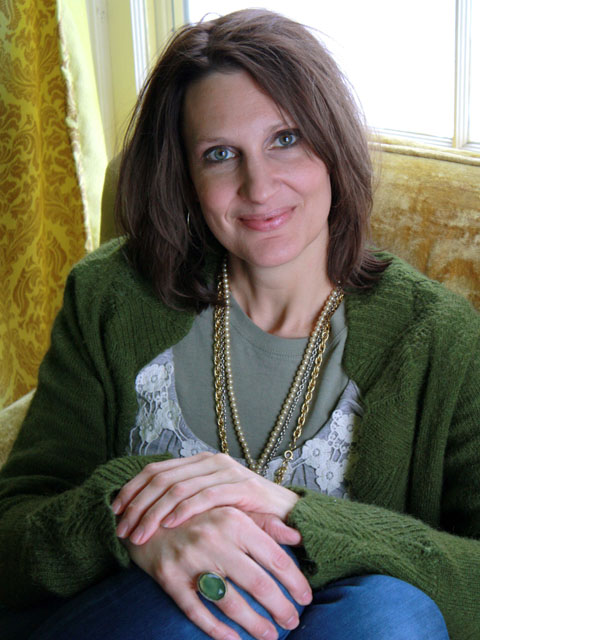 It's just what I looked like today when R-girl snapped a couple pictures of me.
Me?
I'm a little deeper than that, hopefully. And I'm working on being ok if my true colors show through now and then. Even the darker ones.
P.S. To the stylists I know and love who have been saving me from my own hair: I don't envy your job. I mean fragile female egos are on the line here, and my increasingly fragile hair strands (dang it!!), not to mention possibly somewhat shallow self esteem that may or may not stand the litmus test of a radical new hair color and cut. With so much at stake, and with the mess of all that brown hair dye, I'm not so sure I should be taking things into my own hands anymore.
I'll be seeing you soon.
by julie rybarczyk