R-girl and I have come down with a bad case of the fever over here.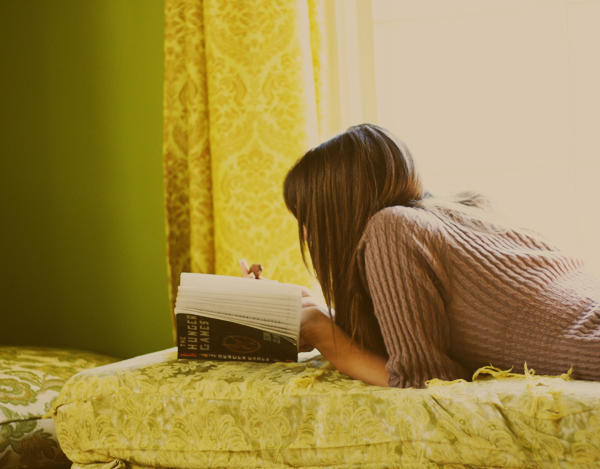 Hunger Games fever, that is.
R-boy is still resisting.
I don't blame him. I'm usually the one to hold out on the cultish drivel that everyone else won't stop yapping about (I still haven't indulged in a single Harry Potter or Twilight film or book, possibly just because I'm stubborn). But somehow I caught the bug this time and there's no turning back.
From what I'm hearing, I'm not alone.
In fact, a few weeks ago, after spending an entire Saturday basically living The Hunger Games (I was THERE, people) and literally peeling myself away to attend a birthday party for a dear friend (who can be assured that I love her based on how hard it was to extract myself from the suspense and yet how willing I was to do so on her behalf), I showed up at this party and small-talked around the room for a while until another friend of mine casually asked, "Hey Julie, have you heard of The Hunger Games?"
"Are you kidding?" I said. "My body is at this party but the rest of me is still there right now. I've been reading it all day!!!"
"I have too!" he said. "All day today!"
"What! You have? What part are you on? Wait! You can't tell me," I said. "If you've read further than me, you might give something away!"
And we spent the next five minutes *very* carefully hinting, questioning, and zoning in on where the other might be in the book. Turned out we were within pages of each other—and we both finished it within minutes of each other the following day. (Which I know because we texted our progress.)
It's all been quite the bonding experience.
The only downside are the spoilers I keep running into – a few on Pinterest (grrrrr) and a couple from R-girl herself, who – moments after assuring me that she wouldn't give anything away – promptly did, without even realizing it.
I need to finish these books fast, before anyone spills anymore beans on me. I'm reading Mockingjay now. (And just in case I wasn't clear: Don't tell me what happens!!!)
So there have been a few extra quilts and couches and quiet moments for me lately, while I've been living the Hunger Games thrill ride:
Which has worked out nicely because I've had another fever of sorts – the actual, sickish kind – that's had me feeling just run over by a truck enough to have no energy at the end of the day, but not quite horrid enough to stay in bed 24/7.
Lounging around with a heart-pounding story has been just what the doctor ordered.
And that's where I'm headed right now. Nite, friends! And may the odds be ever in your favor.
xo
by julie rybarczyk